How we managed to launch a database designer to more than 200,000 users around the world without a budget.
---
dbdiagram.io, a database design tool for analysts and developers, has been trusted by more than 100,000 developers, analysts, makers, etc. around the world.
Following the first part of the series (How we built dbdiagram.io), in this article, I will share more about how we managed to launch dbdiagram.io to more than 200,000 users without spending a dollar on marketing.
The article has four main sections:
The Pre-Launch: Various aspects of our preparation steps
The Short Boosts: Short-term channels to build initial traction and get early feedback
The Stable Growth: Long-term channels where we get most of the traction
Product-led Growth: How we used our own product to grow the user base
The Pre-Launch
1. Philosophy
There is no such thing as an overnight success in building products- only continuous iteration creates sustainable growth.
That's why we divided our launch into mini-launches instead of a single huge event to minimize the feedback cycle and maximize learning opportunities.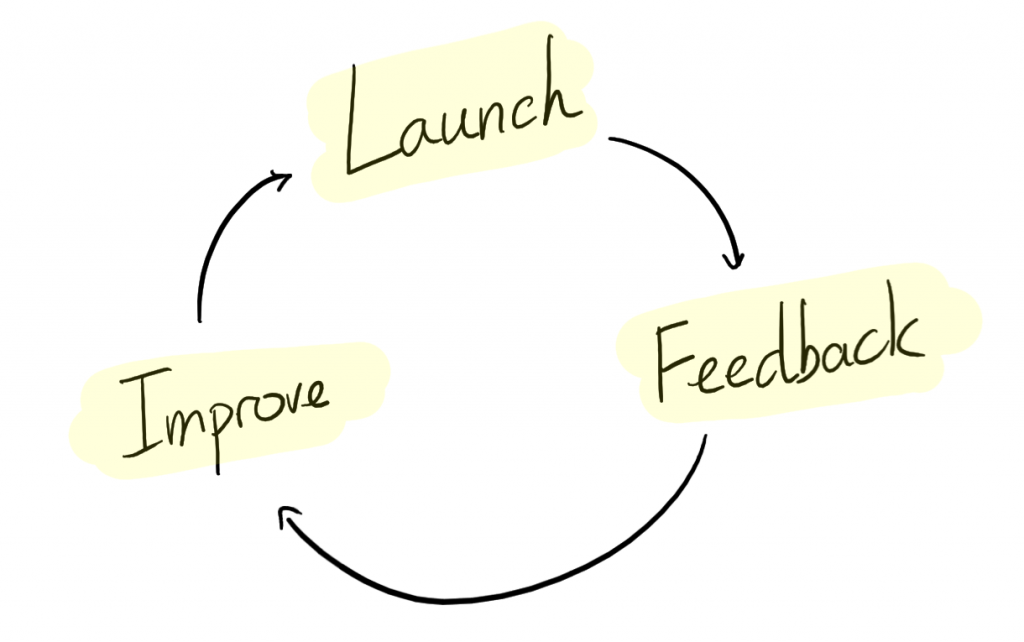 2. Understand Your Target Audience and Value Propositions
As I mentioned in the first part, knowing your target audience and value propositions will help you refine your product experience as well as market positioning so that you can market your product to the right people.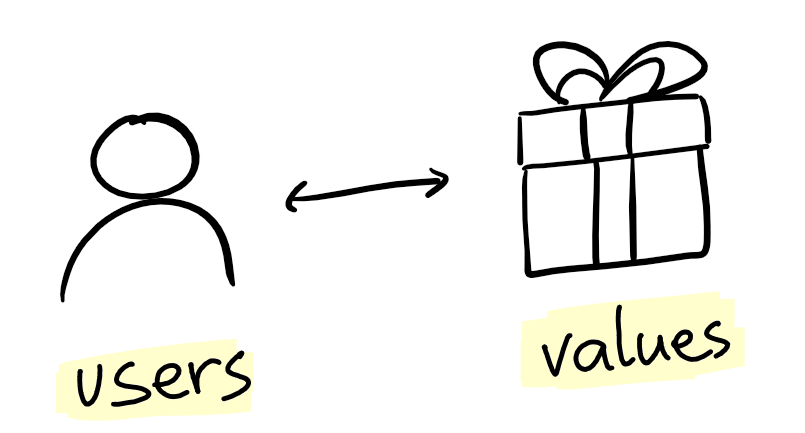 We defined our target audience and value proposition clearly clear in our product message
dbdiagram.io: A quick and simple free tool to draw your database relationship diagrams designed for Developers & Data Analysts
Target Audience
High Priority: Developers, Data Analysts
Medium Priority – to be explored later: Students, Teachers
The Value Prop
Quick, Simple and Free Database Design Tool
3. Performance Tracking
Let the numbers talk!
When it comes to understanding what has gone right or wrong, which channels we should focus on, what is happening, and what we should do next after acquiring 100k users… data is our best friend.
In the early phase, for ease of use, we only used Google Analytics: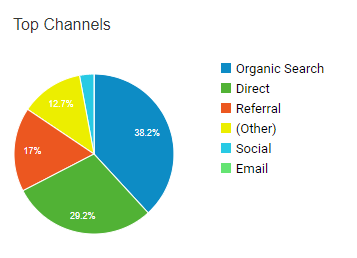 Later on, to get deeper analysis and constant visibility on how people are using our own product, Holistics.io, to send reports to our Slack channel daily. Information that we normally look at includes:
Monthly/Weekly Growth of Users and Diagrams
Channel Performance: Which channels work, which ones do not
Retention Rate
How many new Holistics trial users come from dbdiagram.io
…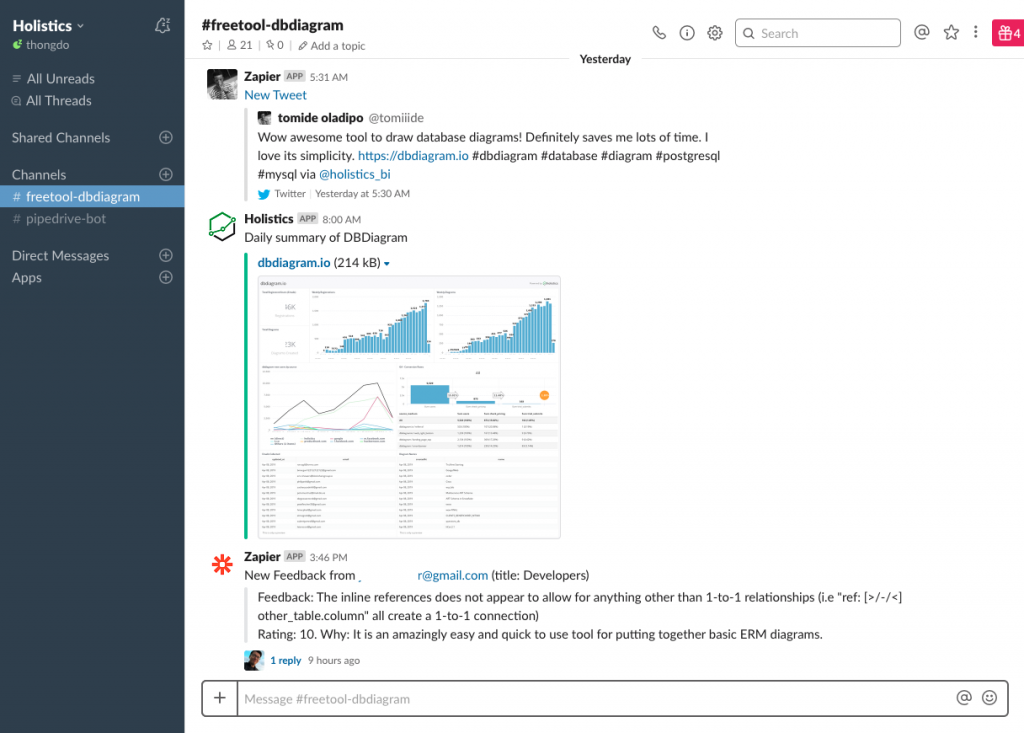 4. Writing Things Down
Whatever you use, kanban or checklists, making your work visible is the key to keeping everyone aligned.
To keep the whole team on the right track and help new members keep up with us effortlessly, we wrote down everything related to the project into Notion.
What we included in our plan:
Marketing Content Kit (Title, Short Description, Long Description, Medias, Keywords) to avoid duplicate works or inconsistent messaging across the team when rolling out the product.
The Target Audience to help remind us who we are marketing for.
Main measures to know what to focus on, and what the current status of the product is
Experiment table with tracked metrics
Channel List: The list of all possible channels for each user segment
5. Whatever You Create, You Need a Distribution Plan
No matter how well-crafted your articles, your Product Hunt posts, your new features are, if you do not have a good distribution plan, no one will get to know the value you offer.
Launch: The Short Boosts


If the pre-launch went smoothly, then most likely you will have an easier time executing and iterating your launch plan.
In the early phases, we focused on short-term channels such as Influencers, Social Media, Product Hunt, etc. to create initial traction and increase the awareness among the developer communities.
These channels often brought us a huge boost in visitors and new users in a very short time. However, after a few days, the number often drops to only 20% of the original boost, and slowly phased off after that.
As a side-effect, they also gave us a good amount of feedback, which is incredibly helpful for product and marketing iterations.
Influencers (Facebook, Twitter, LinkedIn…)
We asked our CTO – Huy Nguyen, who has quite an extensive network in Asia's tech community, to share about dbdiagram.io. After a few days, his share got caught by a few popular Facebook groups.
Within the first week, it brought us around 2,000 users. From these users, we got lots of positive feedback as well as critical bug reports to improve our product.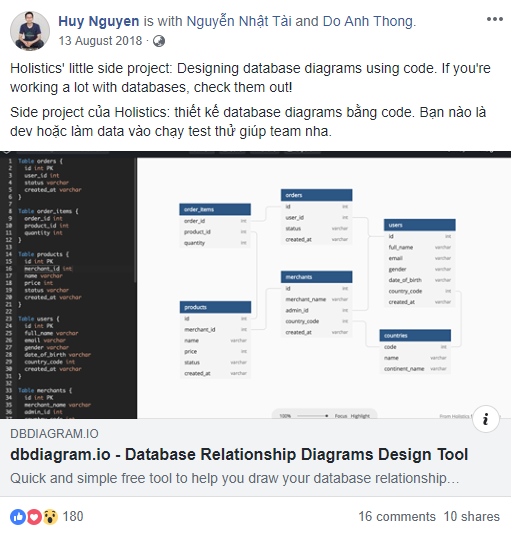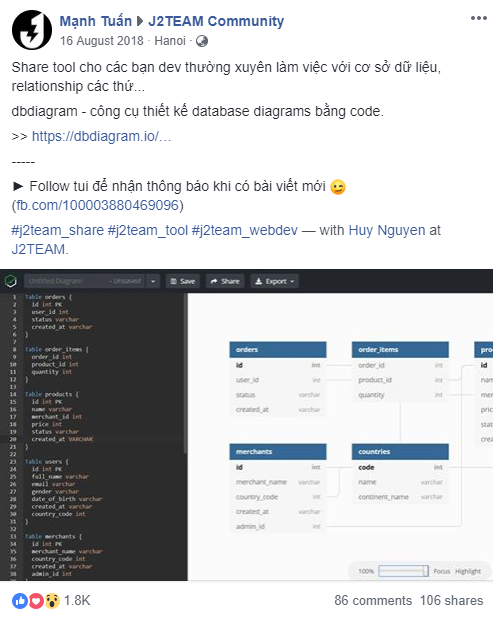 In hindsight, we could have capitalized on this channel more seriously. We could have asked more influencers to try it out and spread the word.
Product Hunt is a website dedicated to curating the best new products every day. This is a famous one-stop site for early adopters like entrepreneurs, makers, developers, tech geeks… which are absolutely our target audiences.
Since it was a competitive day and this was our first experience launching on Product Hunt, dbdiagram.io landed on #7 at the end of the day.
Product Hunt brought around 6,000 visitors to dbdiagram.io, and again, lots of useful feedback from the community.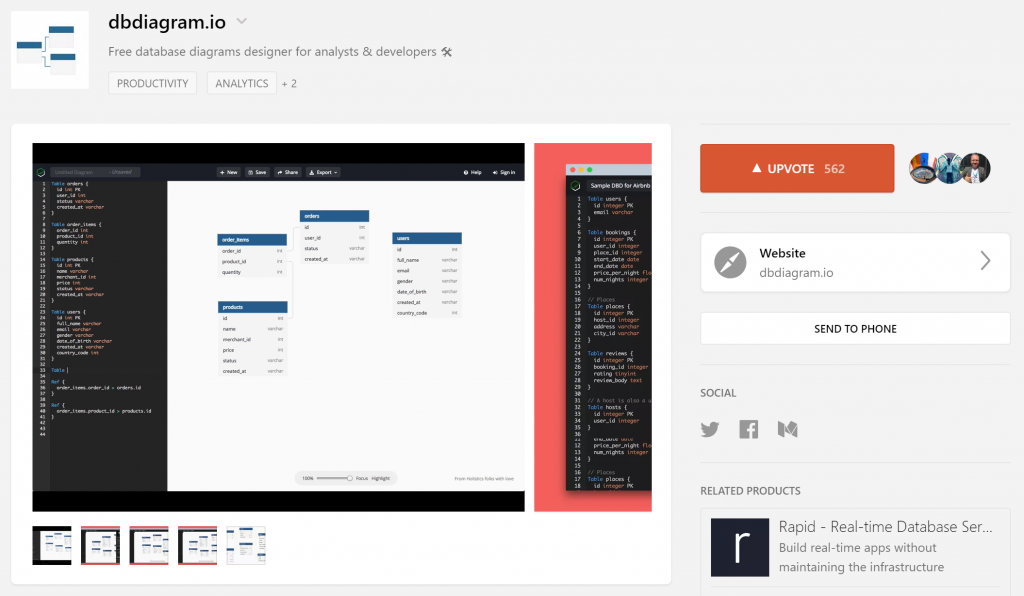 However, Product Hunt is only a one-time launch channel that requires a lot of preparation, from catchy GIFs, videos, screenshots to asking people for votes… I will share more about our Product Hunt experience in another article.
Ref: How To Launch on Product Hunt by Product Hunt
Medium – Hacker Noon
Since Hacker Noon has been a popular site among the tech community, we guest posted on Hacker Noon with an article introducing dbdiagram.io as a freebie to the community, titled A Database Diagram Designer Built for Developers and Analysts.
We immediately got 5,000 views within the 1st day, and the peak lasted 3 days with around 3,000 new users.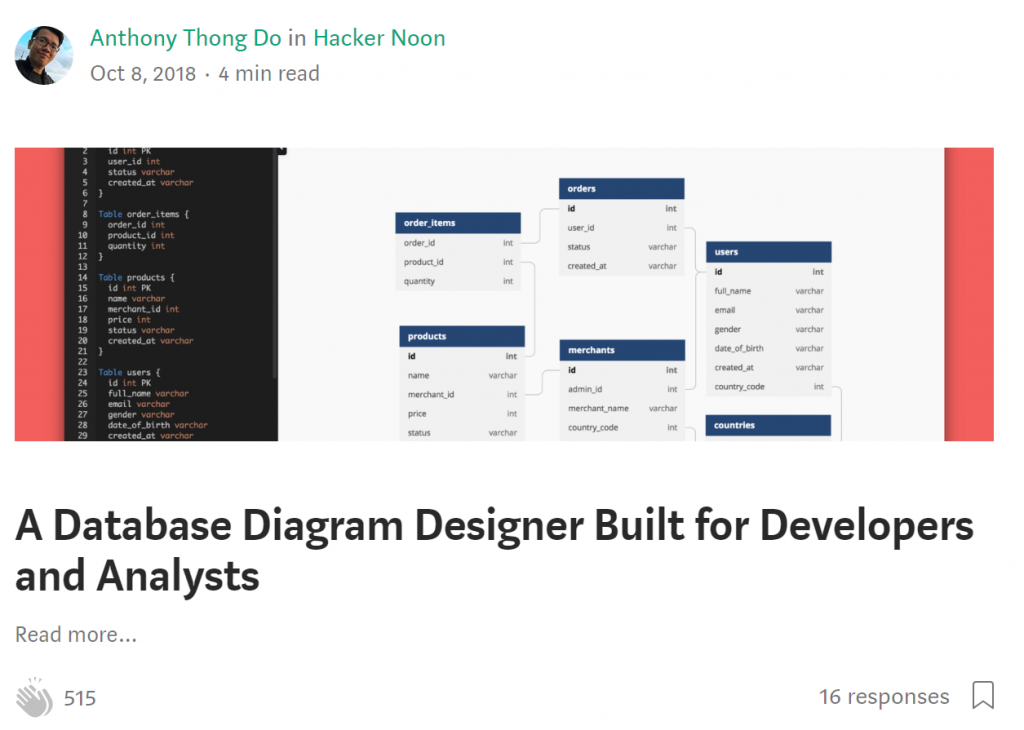 Social Media (Facebook, Twitter, LinkedIn, GitHub…)
To be honest, we have not actively made use of this channel, and mostly relied on organic word of mouth. However, in the Product-led launch session, we will share our practices about how to motivate users to spread the word about dbdiagram.io by leveraging our own product.


We also contacted some famous accounts such as Smashing Magazine, CSS-Tricks… to try us out to see whether it benefits their communities.

Ranking Sites (Reddit, Quora, Hackernews, Slack Groups, Facebook Groups…)
Based on the prepared content plan and the main messages, we customized and posted dbdiagram.io on several other platforms.
Reddit

Quora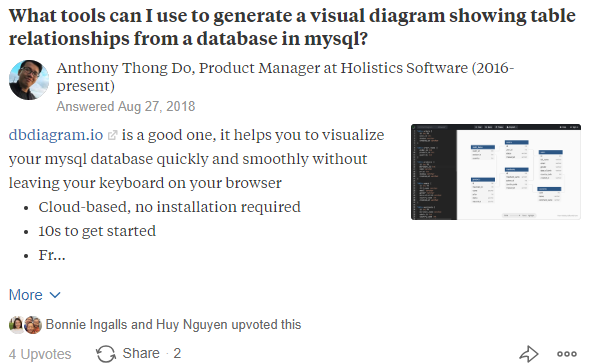 Posting on these channels still has some benefits, but we realized this was not a very promising channel as we cannot effectively control the traffic. For example on Quora, if someone asked "What is the best database diagram tool?" and there were already some reasonable answers, it is unlikely for our post to climb to the top #3.
In short, I suggest you list out all possible channels, post your content on the ones you find relevant, and then move on.
50+ And Counting Websites To Post Your Product Or Your Startup: https://medium.com/the-mission/50-websites-to-post-your-product-or-your-startup-a6680ab178a6
Launch: The Stable Growth

Since short boosts can't last long, we have to look into long-term channels such as content marketing or SEO to keep the growth sustainable.
Turns out Content Marketing and SEO were the most effective channels.
Direct: 34% – When people type dbdiagram.io directly to the address bar, there are 2 possibilities:

Word-of-mouth: people tell each other about dbdiagram.io
Repeat Visits: dbdiagram.io was already on their top of mind, so whenever they want to design databases, they will type it into the browser.

Content Marketing: 34%
SEO: 15%
Other (Social, Email, Referral…):17%
Content Marketing
Top 5 Free Database Diagram Design Tools
Though it took me only 30 minutes to write, the article above has been our best source of user acquisition. About 20% of our total users have come from this.
How?
By applying SEO and a small trick of browsing psychology, we got into the top 3 Google Search Results for a few keywords, which brought around 5000 views per week.
According to BuzzSumo analysis on 1 million articles, list posts generated more views and backlinks than other content types.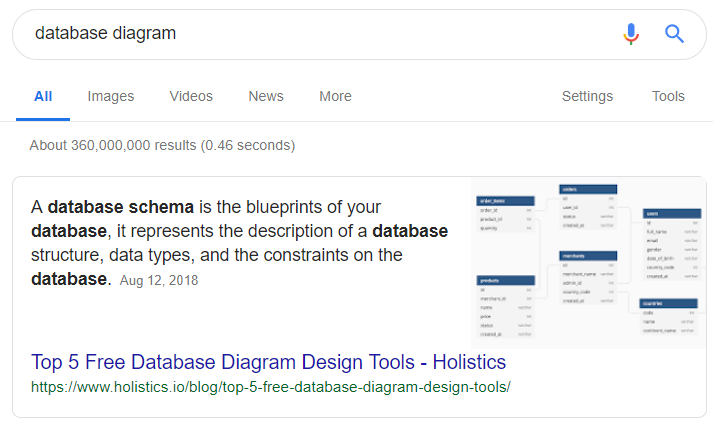 We know people are lazy, and they love to have someone curating some best solutions for them instead of doing it themselves. "Top 5" also means a shortlist that helps them narrow down their options.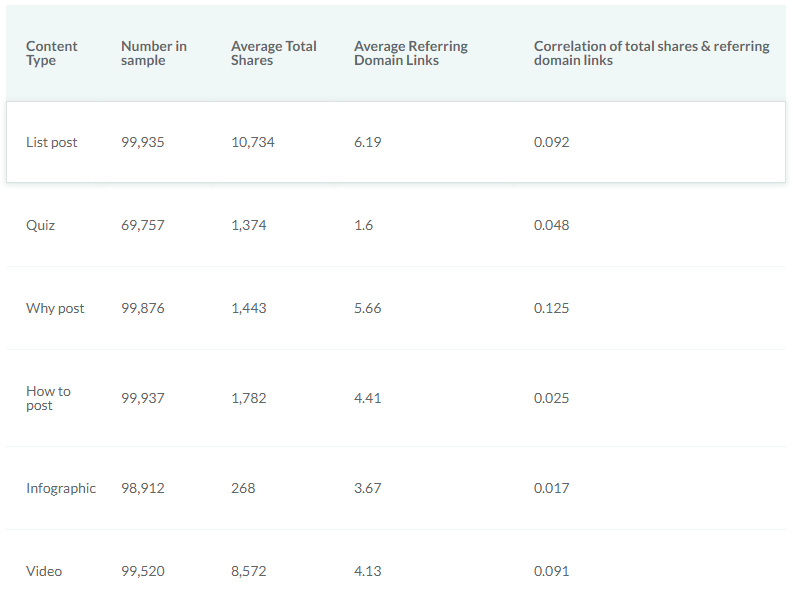 These are a few optimizations we performed on our post:
The Keywords: on the topic "database diagram design", we researched a bit and realized the keyword "top free database diagram" has good volume but no good article for it, so this is the keyword we focused on.
The title: "Top 5 Free Database Diagram Design Tools". Here we included all the necessary keywords.
The content: We combined our personal experience and content pieces from software review sites. We also put dbdiagram.io at the top of the article and focused on the benefits of the tools.
The first paragraph: We wrote a paragraph with the definition of database schema which later was indexed by Google as the definition of a database diagram. This gave us an unexpected advantage on this keyword.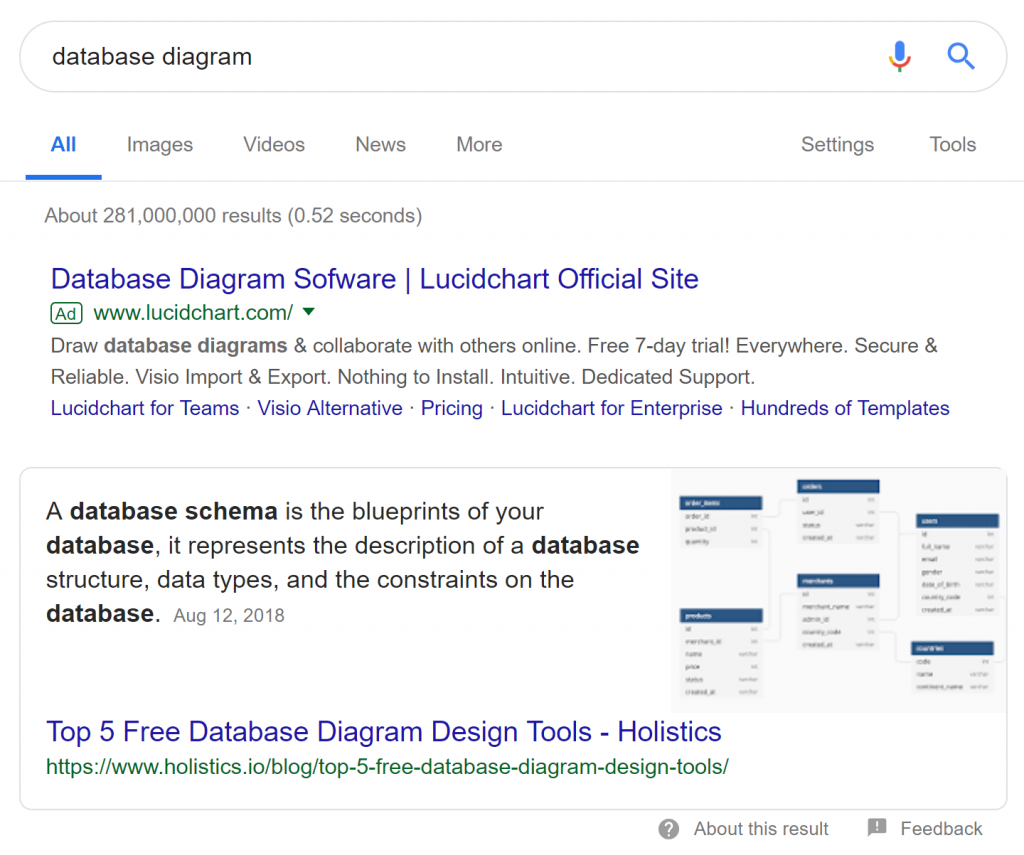 We also produced more articles to increase awareness as well as the number of backlinks
SEO

In short, we simply tried as many best practices as possible, and here are some takeaways:
The market research / SEO research step was very important since it helped us find an effective way to optimize our content. (You can read about this research method in detail at How we built dbdiagram.io)
Remember to optimize your landing page for the target keywords, and use free SEO checker tools.
Produce more content around the target keywords to get more backlinks and increase your site authority (https://backlinko.com/link-building).
Avoid duplicate content.
Keyword volume is important but do not chase it. Instead, pay close attention to conversion rate, which depends a lot on competition and the keyword's relevance to your product. (Read more here)
Product-led Growth
As a product-first team, the product plays a significant role in our growth strategy. Growth has been one of our main feature prioritization factors, we use the new features to leverage our existing user base and get new users via word-of-mouth. For every new feature we tend to build, we ask ourselves:
How will it help our growth?
Will this get more people to know the product?
Will this expand the market we can reach?
etc.
There are a lot of feature ideas floating around such as Embedded Diagrams, Azure Support, GitHub Integration,… which enables dbdiagram.io to reach more users. These were all suggestions contributed by our growing community of users.
With each new feature, we get our users up-to-date via our Public Roadmap, Email, In-App Notifications, Social Media, Community Forums, etc.
Here are a few examples:
Motivate users to share more about dbdiagram.io
Create an online community for our users to share discussions
Create email campaigns to increase engagement
Use in-app CTAs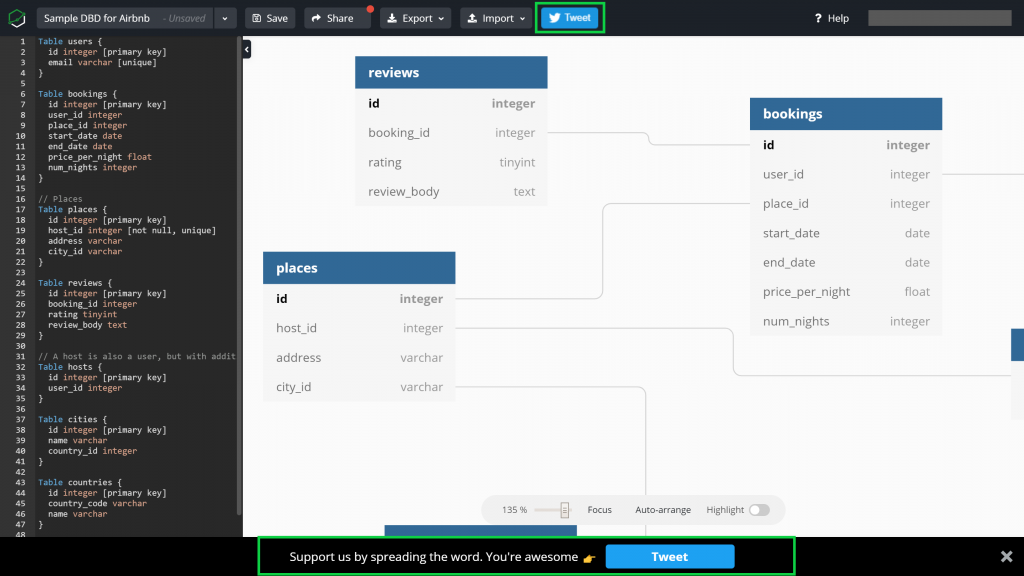 Rails, MySQL Export/Import
We decided to give dbdiagram.io the function to generate entity-relationship diagrams (ERD) from MySQL and Rails apps. This opened new doorways for us to reach out to the MySQL and Rails community via: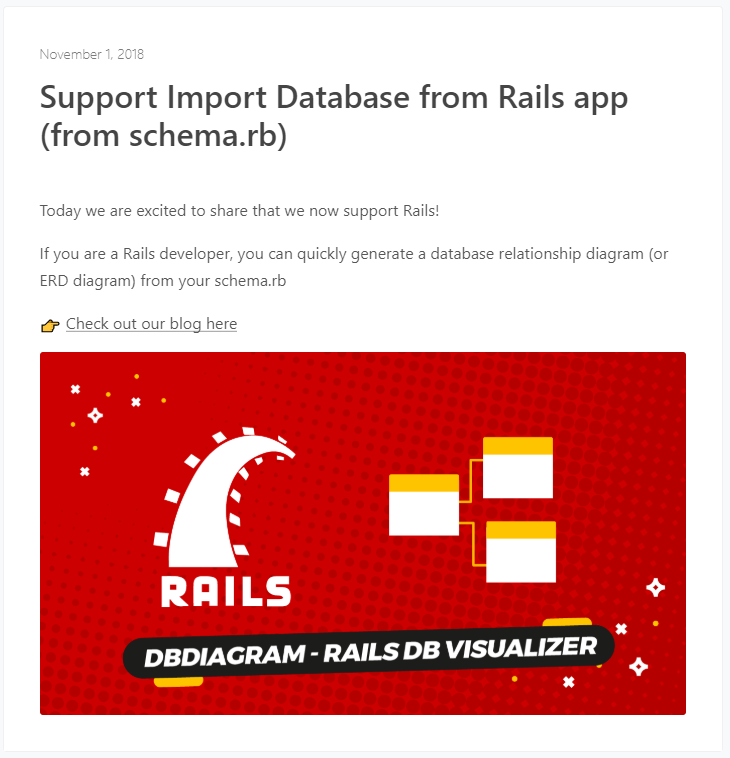 Embedded Diagrams
With this feature, users can embed their diagrams inside their documents/apps instead of posting static screenshots. This kills two birds with one stone:
The feature greatly improves user experience, as users now have a live diagram that is updated alongside their database documentation.
From a growth perspective, the more people view the embedded diagrams, the more chances we have of new users clicking on dbdiagram.io from the diagrams.
Conclusion
Launching a product like dbdiagram.io has provided us with a new channel to gain more leads for the main product, and a great opportunity to learn about launching products and applying product-led growth strategy.
Key Takeaways:
Make sure the tool gets delivered at the right place, at the right time, for the right audience
Divide your launch into multiple mini-launches to shorten the feedback loop
Get some short boosts for initial traction, but do not forget to focus on long-term growth
Use your own product as a growth channel to expand your user base